To kick off the new year, our first GIVE Project of 2018 was at Kids' Food Basket in Muskegon. Kids' Food Basket provides sack meals for students to take home for dinner.
We started out the day by throwing on some hair nets and gloves and getting right to work in the kitchen. The management and organization was flawless! The kitchen quickly became a fast paced assembly line of cutting and bagging cantaloupe and cucumbers. Everybody had a spot and a duty. The environment was full of positive energy. There wasn't a single quiet second. Our team had such a blast working with the other volunteers. The time flew by! We were so impressed with how focused, patient and kind the employees and other volunteers were.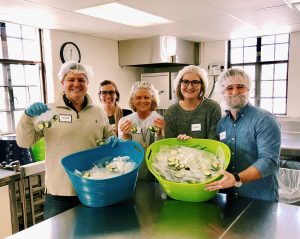 After we cleaned up the kitchen and got the bagged produce in the fridge, we headed downstairs to learn more about the organization. Our team huddled around to listen to the story of how Kids' Food Basket began. It all started in 2001 when the principal of Sibley Elementary School in Grand Rapids saw a student digging in the trash for food to take home for dinner. This made her want to create a program that provided adequate nutrition for students.
Listening to the powerful story definitely created some tears for some of the team members. It's so inspiring to hear how this organization is taking action and attacking childhood hunger.
It was very interesting to hear about how teachers and principals have shared that there's been a decrease in bad behavior in their students and an increase of grades. Who knew food could be so vital to a child's education?!
Without Kids' Food Basket, hundreds of kids would go home hungry and without dinner.
One of our team members said, "I just had the most rewarding experience volunteering for Kids' Food Basket in Muskegon with our KH team!! This is an incredible organization with the most selfless, giving people." We're already excited to think about the next time we'll spend some time volunteering there.
Kids' Food Basket can't continue without your support! Kids' Food Basket requires community involvement to thrive. We strongly encourage you to donate your time or money to this organization! Right on the home page they have 2 easy options to either donate or volunteer. Signing up to volunteer is very user friendly on the website.
I asked Lynn Keech what their needs are at this point;
"Wish list items in order of greatest need at this time:
#1 snack sized zipper bags
#2 sandwich sized zipper bags
#3 creamy peanut butter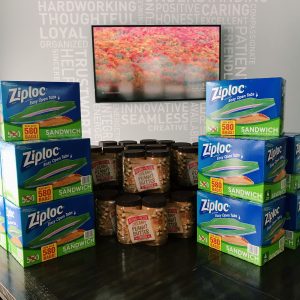 #4 large bags of mini pretzel twists
#5 large boxes cheese crackers (such as goldfish crackers)
#6 fruit cups
We are also in need of some extra volunteers. As you know, we increase our service on January 22 and are looking for another 25-30 volunteers to help fill those volunteer sessions. Volunteers can go to muskegonkfb.volunteerhub.com and create a volunteer profile. Once they create a profile they will be able to schedule themselves for volunteer sessions where we need help. Please let your readers know they can reach me at 231-747-8575 if they have any questions."
Learn more about the organization and volunteer opportunities at http://www.kidsfoodbasket.org/