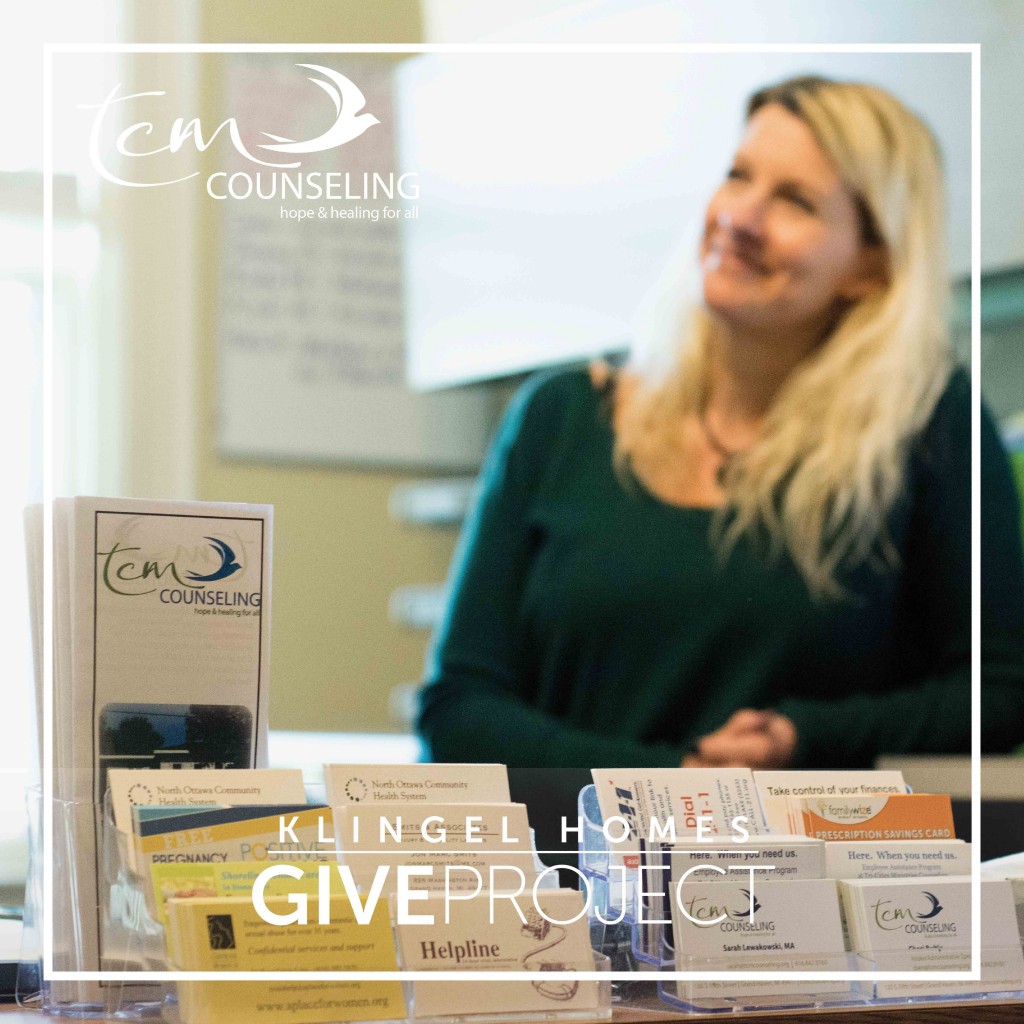 June 2016 – TCM Counseling
For our Klingel Homes GIVE Project this month, we had the opportunity to meet with Sarah Lewakowski, the executive director of TCM Counseling, and got a tour of their Grand Haven facility.
TCM Counseling is one of the best places in the tri-cities to be able to access professional counseling. As of this year, they have been in the community for 39 years. TCM's commitment to the community is that no one is ever turned away. If anyone lives, works, worships, or attends school in the tri-cities, they will never be denied the counseling they need. TCM works with 30 professional, licensed therapists from private practices. So not only will a client never be turned away, but this allows clients to see their therapist very soon after their intake.
When we heard how many therapists TCM works with, we were surprised by the high demand for counseling in our area. We asked Sarah how many clients TCM typically has at a time, to which she answered: "About 12 years ago when I started, we saw about 5-10 new clients a month. Now we see anywhere from 80-150 new clients per month."
They also can help some clients access needed psychiatric care, and are extremely passionate about suicide prevention. TCM even offers a suicide prevention training program called QPR: Question, Persuade, Refer. They provide QPR training for area churches, businesses, or groups that would like to receive it. Recently, this issue has come to the forefront of local issues, as the rate of death by suicide (especially in youth) for Ottawa County has been up dramatically.
According to the 2015 Ottawa County Community Needs Assessment:
"After 6 years of declining numbers, youth reporting they had attempted suicide within the past year increased 50% in 2013."
In addition to individual and group counseling, TCM is committed to offering other programs relating to mental health. They even have a school outreach program and are providing therapy on location at local schools for some of our community's most vulnerable: students whose families cannot afford, or provide transportation to a therapist's office. Right now TCM counselors are seeing students in 10 area schools and are hoping to expand that even more.
After hearing more about their services and opportunities, we asked Sarah a few specific questions.
"What is the greatest struggle that TCM faces?"
"We see TCM as helping to keep our community healthy and happy by providing hope and healing for all. But one struggle has been fundraising for something that is not tangible. If people can't see it, or touch it, or if it hasn't affected them or someone they know, it's hard to communicate that need and receive funding.
And also sometimes the stigma of mental health, and the process of getting help can be a struggle. The sooner people get help the better, but there are still those who don't believe in it, don't think it's important, and may not know where to get it. So that can be a struggle too."
TCM has a very unique model, which enabled them (in 2015) to provide the community over $900,000 worth of mental health services, on a budget of $327,000. So $1 donated to TCM can provide $3 worth of mental health services for the community.
"So how do all 30 therapists get paid on such a small budget?"
"They lower their rates to TCM, by half or more of what they normally charge. So the client will pay their therapist an arranged copay, and then the therapist will bill TCM the remainder less the copay. When a new client comes in, we just sit and chat about what brought them in to TCM. It might take 20 minutes, or maybe 3 hours. And I'm good with that, however long they need to tell me their story. It is not uncommon for us to do an intake, at least once daily, of someone who is suicidal. But we want to give them hope, and get them to their therapist that day. That's why we spend so long on intake meetings, to know they're safe.
So, through our conversation, I figure out what copay they can afford, based on their employment, family, etc. TCM never wants finances to prohibit a person from receiving the care they need. I'll also determine what therapist they will fit best with, based on what they have told me. It is so important that we refer clients to the right therapist, someone they will fit well with. Among our 30 therapists, we have people with various areas of expertise and specialties. If the new client has insurance, that's awesome! Or, maybe they have insurance, but have a $4,000+ deductible. We call that "underinsured" and they need financial assistance to be able to see a therapist. So whether someone has no insurance, or a high deductible, we're going to figure out something they can afford.
"What are some of your favorite memories of your time at TCM?"
My greatest memories are talking to people coming in for intake meetings. So many clients we see have been turned down at other agencies and believe that they will not be able to access the help that they need. The relief and hope that occurs at TCM on a daily basis is amazing.
A judge once sent a man here for anger management, so I set him up with an individual counselor, as well as our anger management group. About a year later, he walked in our door with a woman and a baby and said: 'This is my fiancé, and we need some help with our relationship. I knew we could come here because you were so nice.'
Another man came from one of the businesses in town, and after about an hour into the intake, he said, 'I need you to know something… I'm an atheist.' So I said to him, 'I need you to know something… I don't care!' and I just saw him completely relax. My favorite moments are when you can see on someone's face they're surprised you're not turning them away. I truly cannot imagine being anywhere else. The one thing that people should know about TCM is that we want to care about everybody. And we do, we care about every single individual."
TCM Counseling has been providing the Tri-Cities with professional counseling for 39 years. Utilizing a very unique model of very low overhead and a panel of 30 therapists, their commitment to the community is that no one is turned away. In addition to individual counseling, TCM provides support groups, a School Outreach Program to our local schools, an Employee Assistance Program to our local businesses, and also provides QPR Suicide Prevention Training (free) to area groups. TCM Counseling is proud to provide Hope and Healing for All.