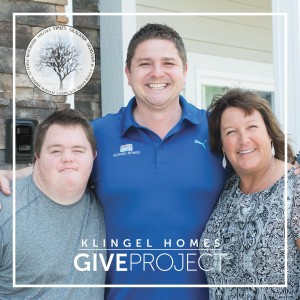 Gracious Grounds – July 2016
There is a new non-profit organization in the area! During the month of June, we had the opportunity to meet Sandy Baker, the Executive Director of Gracious Grounds. She was kind enough to show us around the first property acquired by the organization and tell us about the work they are doing.
Gracious Grounds is a faith based community offering housing opportunities to people with unique abilities. Their mission is to look beyond limitations to create an environment that is affordable, friendly and resident centered. Gracious Grounds works to emphasize life enriching activities and togetherness by promoting community involvement inclusion, employability skills, daily living skills, academic learning and spirituality.
Safety and security are some of the most important aspects that families look for in housing for their family members with disabilities. The property that Gracious Grounds has acquired from Love In the Name of Christ, meets these needs perfectly. The building was previously used as a hospice care facility when it was originally built, so each room is private and individually secured. Each resident has their own bedroom and bathroom, much like a hotel suite! They have personalized their rooms with colors and themes that make them feel at home. In addition, there will be a Resident Assistant in the house, on a part time basis, merely just to check on the residents to see if they need anything, much like a caring, compassionate neighbor.
Sandy informed us that another goal of Gracious Grounds is to connect the residents to opportunities in the community and to the businesses in the area. "Just as you prepare your own children for their journey into young adulthood – sending them off to college, off to a dorm room, into their first apartment – and preparing them for their first career…..I, too, help to prepare young people, with unique gifts and talents for those same goals, dreams and endeavors. The only difference, as I see it, is the amount of support needed for people with unique challenges to gain successful employment, live on their own, or with a roommate, and carry on successful, fulfilling lives with a purpose! I have always believed that people with different abilities have something to teach us – all of us!!! If you have ever had the opportunity to work side by side with a person with a disability, or have welcomed someone into your social circle and into your life with unique gifts and talents – then, you know the benefits you have received!
Many, but not all, of the residents have part time jobs in local businesses. There are several residents that desire that opportunity. I believe when the residents offer to assist or volunteer in local businesses, many business leaders witness the gifts, talents and skills that have been instilled in each of these individuals, which may lead to a paid position in the future. Realizing the determination, tenacity and drive that these individuals possess is inspiring, as well as witnessing the benefits that others receive when they work side by side with a person with a disability. These opportunities can shift paradigms in our community. Several local businesses have received the benefits from hiring a person from Gracious Grounds. Leppinks, Orchard Market, The Holiday Inn, Michigan Shippers and The Spring Lake Country Club presently employ several residents from Gracious Grounds."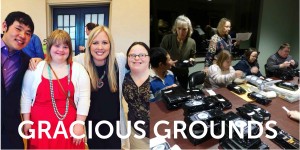 Our friends of gracious grounds at their annual fundraiser (left), and bagging coffee beans (right).
As we continued talking to Sandy about the work of Gracious Grounds, we were overwhelmed by her passion and commitment. She shared how having a son (Eric) with Down Syndrome, as well as serving students with unique abilities as a Special Education Teacher and past Principal, have been the catalyst for the development of the organization. Housing for people with disabilities is an unmet need in many communities. There is a waiting list for this property already! I am receiving phone calls from other communities desiring Gracious Grounds to come into their neighborhoods! Gracious Grounds is also hopeful to obtain an apartment building in the area soon. Several applicants desire to have their own one bedroom, one bath apartment and/or live in a two bedroom/two bath apartment with a roommate.
When we asked Sandy what her biggest struggle has been to date, she expressed the fact that she has been frustrated, at times, by the length of time it has taken to get the organization to the point it is today. "My patience has been tested over and over again. But, I know there was a reason for every delay!! With every delay another opportunity would open up – most of the time even better than the previous opportunity!"
Gracious Grounds is a newer non-profit and any success that they have achieved has been directly related to the level of financial support the community provides. They are actively looking for volunteers and resident assistants to join their team. If you would like to share your gifts and talents with Gracious Grounds, consider contacting Sandy Baker at sandrajbaker63(at)gmail(dotted)com or if you would like to donate directly, you many send your contribution to Gracious Grounds at PO Box 393, Spring Lake, Michigan 49456.